We focus on the working environment, quality and a sustainable environment
HyCom aims to achieve quality at all stages by delivering equipment and services that are in accordance with the authority's requirements, as well as the customer's needs, demands and expectations. HyCom aims to produce and deliver equipment and services without harming personnel and equipment.
HyCom's employees must at all times feel safe and looked after in the workplace through clear management and dedicated personnel with responsibility for compliance.
HyCom AS aims to seek the best solutions that satisfy environmental concerns to the greatest extent possible, so that the company does not unnecessarily contribute to the pollution of the environment. HyCom AS must be perceived as an environmentally aware company, where the employees take environmental responsibility at all times, which further implies that we show concern for society's vulnerability through our choices and actions.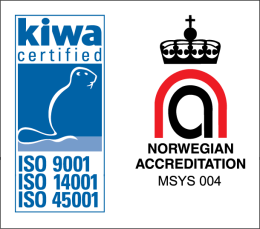 HyCom AS will use the established management system as a central management tool for e.g. a. elimination of threats and risk elements, but also through conferencing and participation in the organization achieve:
Set Quality and HSE targets, a good working environment, reduce illness and injury, as well as ensure financial security and future continuous improvement.